---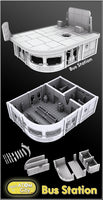 A derelict bus station. People used to wait here to be taken all over on massive vehicles. 


Accessories and furniture not included besides bathroom stalls. Accessories and furniture will be available to pick out to customize your experience. 


please allow 3-4 weeks for printing and shipping. This can be at times extended. We will be in contact if this is the case. 


Product is shipped unpainted. If you want a custom paint job please contact us for pricing.